I am passionate about being a youth football coach for many reasons. Of course, I love football and love teaching it to kids even more, but it also gives me unique vantage point to my community, allowing me to see little ways to make an impact.
Each year, our team rallies around a cause that is important to us, and a few seasons ago, a teammate shared the story about a 10-year-old kid named Cole. Cole has basal cell carcinoma nevus syndrome (BCCNS), a rare genetic disorder that affects multiple systems in the body and makes him vulnerable to various forms of cancer, including basal cell carcinoma skin cancer, which he regularly gets removed.
Cole is an extremely intelligent kid with a passion for sports, but due to his condition, he cannot engage in physical activities, such as football, baseball and soccer. So, I talked to my team and decided to make him our honorary captain, and at the end of each game, we would ask the team we're playing if we can have Cole run for a touchdown.
This bright, energetic kid became a positive force on our team throughout the season. He was such an inspiration, and he touched our lives even more than we touched his.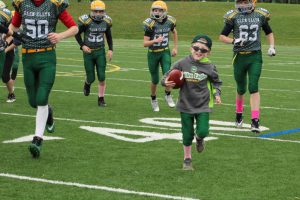 At Medix, we are a double-bottom-line organization: profits and purpose. Our core purpose of positively impacting lives and our values are embraced by each teammate. However, I got thinking that something was missing – a mascot to truly bring our culture to life.
I started asking random people on the Medix team, "If Medix was an animal, what animal would we be?" I'd get off-the-cuff responses, but nothing that really struck me. Some time went by, and I had a little idea, 'I wonder what Cole would say?' He's so intelligent and creative, and I knew in my gut that he would come up with the answer. I emailed him and his parents with my dilemma about the Medix mascot, shared some specifics about the team and asked him if he could think on it and let me know if he comes up with something.
Cole came up with a response better than I could have ever imagined!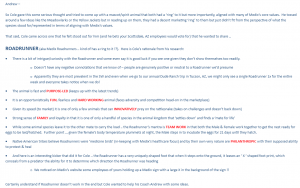 Cole thought through and researched every bit of my email and then did even more research into Medix. When I read his response, I was instantly inspired. It fit so perfectly into who Medix was – a double-bottom-line organization. So perfect that we created our newest accolade for our upcoming Kick-Off meeting – the Roadrunner Award. This award will be presented each year going forward to the teammate with the highest commitment to our double-bottom-line – works hard professionally and philanthropically.
In early March, Medix teammates from across the country gathered in Chicago for our annual Kick-Off meeting. Former Chicago Bear Israel Idonije was speaking to the team on Wednesday night his incredible story about opportunity, grit and purpose – the night of our awards ceremony – along with our partners at Ann & Robert H. Lurie Children's Hospital, where Cole receives treatments for BCCNS.
It was serendipitous how the night was coming together, so I knew this was the perfect way to introduce sports-fanatic Cole and the idea of the roadrunner. We brought Cole up on stage told his story and shared his idea of the roadrunner becoming the Medix mascot to the team. I looked around the room and saw faces light up with excitement as they made the connections from Cole's pitch.
As an added surprise for Cole, we decided to award him with the first Roadrunner Award for not only coming up with the idea, but inspiring so many people in my community and now Medix.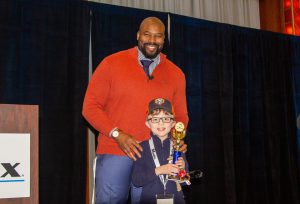 Watching Cole on stage, standing next to Israel, award-in-hand with the Medix team and our partners at Lurie's giving him a standing ovation, was a moment I won't soon forget. It's incredible how having a higher purpose intertwines us wherever we're at on our professional and personal journeys. Cole brought together many people and ideas, and my football team and Medix teams are better because of him.
Thank you, Cole, for everything you've done for us!